The Classic Wireless Guitar System - Designed and built in the UK - The Professional's Choice
"Works so much better than any other I have had; and it is tweakable! Well done"

Anthony, West Sussex
"I love this system, cheers!"

Jyri, Finland
"It's great - it's completely reliable and couldn't be simpler. Whether you're in a studio or domestic environment, anything that reduces the number of cables lying around can only be a good thing."

Mark, London
"Very pleased to report that this arrived safely yesterday and I'm delighted with it. In fact, I'll be ordering another unit in the not-too-distant future, I think!"

"Got it. Love it. Thanks."

Paul, Gloucestershire
"Hi. I bought your wireless guitar system today at the Skipton Guitar fair. I've spent all afternoon trying it out and I absolutely love it. You have come up with a beautiful little design and I shall be recommending it to anyone who sits still long enough! Great value for a lovely piece of kit. Many thanks and all the best."

Mark, Skipton
A high fidelity digital wireless guitar system featuring our proprietary 2.4 GHz Protocol-K technology. The K1100 Transmitter and K2100 Receiver offer high performance, long range and excellent battery life.
The Classic wireless system is perfect for any instrument with a 1/4 inch jack socket. People are enjoying Wireless Freedom with electric guitars, acoustic guitars, bass guitars, violins, flutes, keyboards, accordions ... all with Uncompromised Tone.
High Fidelity
The Classic's ultra low harmonic distortion ensures the tone of your instrument is preserved. Low latency and impressive dynamic range mean you never lose detail, timbre or immediacy. It's near impossible to hear the difference betweeen a Smooth Hound wireless system and a cable.
Long Range
Outdoor range of 200 feet from the high powered transceiver. Indoor range is maximised by twin antenna diversity and automated adaptive channel selection.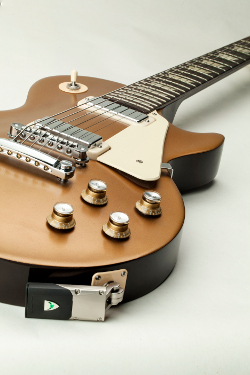 Zero Setup
Four Protocol-K systems can operate in a typical setting with no setup. Adaptive channel selection automatically and continuously finds the clearest regions of the 2.4 GHz spectrum to use. This keeps Protocol-K systems clear from each other and gives excellent coexistence with other spectrum users such as WiFi and Bluetooth..
Long Battery Life
The transmitter takes two AAA batteries with a typical battery life of 15 hours from modern alkaline cells. Rechargeable NiMH AAA batteries work well and offer a typical 10 hours between charges. An optional auto-power down mode can help save batteries if you don't play your instrument for a period of time.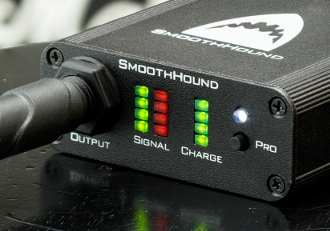 Status Indicators
Both the transmitter and receiver have clear connection status indicators. The receiver has LED bar graphs indicating signal strength, quality and remaining charge in the transmitter batteries.
Quality Materials
The transmitter's adjustable jack hinge is made from hand polished die-cast zinc parts and is designed to fit all instrument socket positions. The Receiver is made from robust painted aluminium.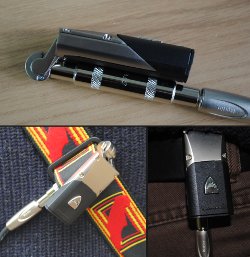 Plug direct or use as a Body Pack
The Smooth Hound Classic system ships with a strip of microsuction tape that can attach the transmitter firmly but removably to a guitar. This material uses thousands of tiny suction cups to stick to any smooth surface and will leave no residue when you remove it.
Alternatively, the Classic Transmitter can be used as a body pack by plugging it into a female to female 1/4 inch jack adapter. We recommend the Neutrik Rean NYS236 available from various resellers or from Smooth Hound Innovations on request.
Read the instruction manual online
Specification
120dB Signal to Noise Ratio
0.006% Total Harmonic Distortion
10Hz-20kHz Bandwidth
8ms Latency
Automatic Adaptive Channel Selection
2.4GHz License Free Operation
Up to 200 Feet Line-of-Sight Outdoor Range
15 Hour Typical Battery Life
Die-cast Metal Jack Hinge
Metal Body Receiver
Signal Quality and Battery Indicators
Balanced TRS Output Jack